quote originally posted by hanshen888:
Haha. Self-discipline is very important, hit target = stop. Learned the lesson in the hard way back then when I lost my 20k winning due to itchy fingers.

Personally I think that the best time to bet is during mid-season when the teams are showing their trends, strong at home/or weak at away games. As long as there are people bet on soccer, there will be match-fixing. It is a dirty business, just like stock market insider trading.

So fools out there, pls continue to bet according to past records and team forms.
---

yes i could say this is true but how you kown its fix and how you could avoid it ,no way.
my way simple.
i use eye jackpot system.
thats the only way i would use .just remenber this by heart
yesterday win, will be today lesson. keep learning to stop you from making a profit
can be done and will be done .if the person you kewn is from southen china
he would be my friend.skill is important ,thats the only way
not easy way or what plan could work.wish you all the best .
time would tell and would overcome all odds





My current Mission is keep wining until S_P 斗/close shop
use main & sub method unit 1 unit= $20:
Use main bet as base the rest side bet to add on to max win or more Name it Eye jackpot system 南神眼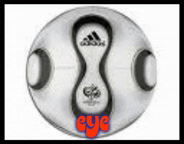 betting records at
http://forums.asianbookie.com/viewmessages.cfm?Forum=45&Topic=2112557
---